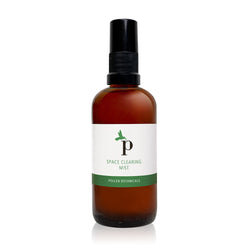 Space Clearing Mist
CLEANSE THE AURIC FIELD
Notes   
It is important to cleanse, uplift and re-energise your personal space. Spray this mist into the air to leave a gloriously refreshing sweet scent of Native Honey Myrtle and Lemon Myrtle. Space Clearing Mist is charged with the energetic frequency of Flower Essences, designed to purify your personal auric field, work or home environment. Bottle Brush promotes the ability to move on, Fringed Violet heals and provides psychic protection, Boab encourages personal freedom, Tall Mullla Mulla has one feel comfortable with others and Bush Fuschia encourages clear intuition.
Ingredients
Purified Water, Aloe Vera Concentrate,* Lemon Myrtle,* Honey Myrtle, Fragonia, Bottle Brush, Fringed Violet, Tall Mulla Mulla, Boab. Bush Fuchsia Flower Essences, Clear Quartz Gem Essence.
*Certified Organic Ingredients
Directions
Shake gently before use. Spritz mist liberally in mid air to clear room space of unwanted energy.