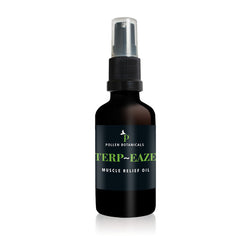 Terp - Eaze
Relieves the symptoms of muscular aches and pains
Notes   
Terpenes are a large class of organic compounds, providing the scent of the essential oil component of many medicinal plants and flowers. Terpenes act as a natural defence system, protecting against disease and pests.Their job is to lure in pollinators with atractive fragrances.

Mycerne and Beta - Caryophyllene are of increasing interest to researchers in regards to their therapeutic, anti - inflammatory and analgesic properties. These terpenes form the basis of Terp - Eaze which is designed to provide temporary relief from muscular aches and pains.

Mycerne is found in a variety of plants including mangoes, hops, lemongrass and rosemary.

Effects and Benefits

Analgesic (pain relief)
Anti - Inflammatory
Muscle relaxant

Beta - Caryophyllene

Ingredients
Camellia Oil,* Hemp Seed Oils,* Mycerne, Beta - Caryophyllene terpenes.
Directions
Rub 2 -3 drops into affected area. Re apply in 5 minutes if needed.