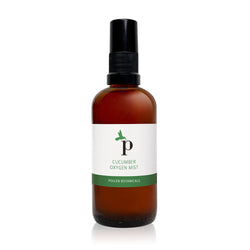 Cucumber Oxygen Mist
HYDRATE & TONE OILY/COMBINATION SKIN
Notes
Cucumber Oxygen Mist is formulated with sea-salt derived natural oxygen to replenish the existing levels of oxygen in the skin, which deteriorates with age. Cucumbers are high in the trace element silica, which is important for healthy skin and soothing astringent plant compounds help maintain an optimal PH level.
This uplifting mist also contains Bergamot and Bush Mint that provide a fresh scent, together balancing oily and combination skin types. Clear Quartz essence adds a subtle, energetic uplifting vibration.
Ingredients
Cucumber Water,* Diatomic Oxygen, Grapefruit Seed Extract, Lime,* Bergamot,* Bush Mint Essential Oils, Clear Quartz Gem Essence.
*Certified Organic Ingredients
Directions
Cleanse skin and spray mist into the palm of one hand. Pat lightly onto face and neck. Apply once daily to tone and hydrate skin.
Lightly spray the face (avoiding the eye area) for a boost of oxygen to enliven the senses.