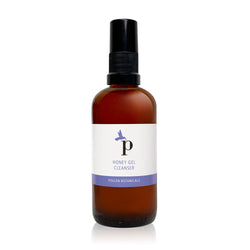 Honey Gel Cleanser
HYDRATE & NOURISH SENSITIVE SKIN
Notes
Honey Gel Cleanser is ideally suited for sensitive, dry skin types and smells delicious enough to eat. This creamy texture nourishes the skin, leaving it feeling soft and hydrated and is free of foaming agents, which can leave skin feeling dry.
Chamomile reduces inflammation, Rose maintains the skins PH balance, Marshmallow and Elder both sooth and protect the skin. These herbal extracts are combined to provide an overall calming effect. This cleanser also includes nourishing macadamia oil with a lipid structure similar to skin, which enables it to absorb easily.
Ingredients
Purified Water, Macadamia Oil, Non GMO Xanthan Gum, Aloe Vera Concentrate,* Sugar Cane Ethanol,* Honey, Chamomile,* Elder,* Marshmallow,* Rose Herbal Extracts,* Grapefruit Seed Extract, Rough Blue Bell, Fringed Violet Flower Essences.
*Certified Organic Ingredients
Directions
Apply 2 – 3 pumps of cleanser onto finger tips and massage lightly into face and neck. Follow by rinsing or wiping free as preferred. Cleanse both morning and night.