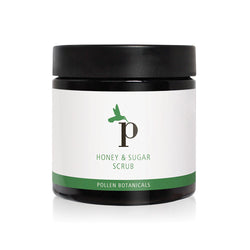 Honey & Sugar Exfoliant
GLOWING COMPLEXION FOR ALL SKIN TYPES
Notes
Developed specifically to control hormonal break outs, our Honey & Sugar Scrub provides incredibly soft and glowing skin. Seasonal, hormonal and dietary influences have a profound effect on the skin and can leave a dull or coarse surface that beneficial ingredients cannot properly penetrate. This scrub is designed to combat these issues by effectively removing dead skin cells and provides an incredibly smooth complexion.
The three active ingredients are Raw Honey for its soothing and antibacterial properties, Molasses Sugar which breaks down into fine particles to unblock congested pores and Kiwi & Papaya Fruit extracts for their natural fruit acid exfoliation benefits.
Ingredients
Sugar,* Honey, Molasses,* Papaya extract,* Kiwi Fruit extract,* Pink Grapefruit Essential Oil.*
*Certified Organic Ingredients
Directions
Place a small amount of scrub into the palm of one hand and partially dissolve with a little water. Apply to face and continue to scrub, adding a little more water until completely dissolved. Splash with warm water and remove with a moist cloth. Use once a week in winter and twice a week in summer.