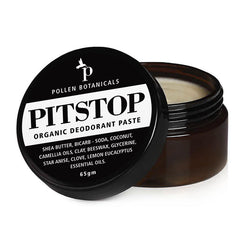 Pitstop
DEODORANT
Notes
This aluminium free deodorant paste provides all day protection against body odour. Pitstop is also an effective antiperspirant that combines the actions of Bicarbonate of Soda and White Clay to absorb sweat and keep armpits feeling dry. The anti - bacterial essential oils of Star Anise, Clove and Lemon Eucalyptus provide a fresh and herbaceous unisex scent to this unique deodorant paste.
Ingredients
Shea Butter,* Bicarbonate of Soda, Coconut Oil,* Camellia Oil,* Glycerine,* Clay, Beeswax,* Star Anise,* Clove * Lemon Eucalyptus Essential Oils*
*Certified Organic Ingredients
Directions
Apply a pea size amount to your armpits with your finger tips and rub in well.