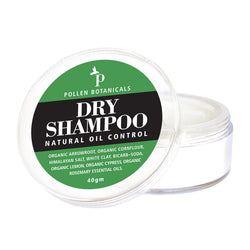 Dry Shampoo
VOLUME & TEXTURE
Notes
Dry Shampoo combines the oil absorbing properties of Sodium Bicarbonate and natural Clay to delay washing hair by an extra 2-3 days. The innovative packaging of Dry Shampoo makes it easy to shake out the correct amount of powder and create the desired look. Mineral rich Pink Himalayan Salts add volume and texture to fine hair along with Lemon, Cypress and Rosemary oil that help provide shine and condition to the scalp.
Ingredients
Arrowroot,* Cornflour,* Himalayan Salt, White Clay, Bicarb –Soda, Lemon,* Cypress,* Rosemary Essential Oils.*
*Certified Organic Ingredients
Directions
Gently twist sieve from left to right to expose one or two holes. 
Lightly sprinkle into hair and blend with finger tips until desired volume and texture have been achieved.