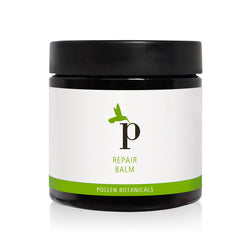 Repair Balm
DEEP SKIN REPAIR
Notes   
Only a slight amount of this texturally pleasing balm is needed to deeply nourish the driest areas of the body. Repair Balm includes Shea Butter that provides a rich healing barrier for severely cracked skin. Vitamin E is included for its excellent healing properties and because it encourages the skin to absorb moisture from within and keeps skin well hydrated.
Ingredients
Shea Nut Butter,* Camellia Oil,* Beeswax,* Natural Vitamin E, Lemongrass,* Ylang Ylang Essential Oils.*
*Certified Organic Ingredients
Directions
Warm a small amount of balm with fingers and rub onto desired area.