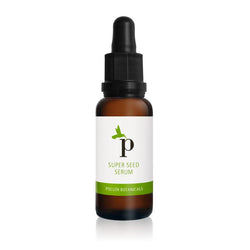 Super Seed Serum
INTENSE NIGHT REPAIR FOR DRY SKIN
Notes
Rich in antioxidants, vitamins and essential fatty acids, Super Seed Serum is sourced from the seeds of plants best known to nourish and repair the skin. The gorgeous ruby red colour of this oil is due to high levels of beta – carotene (Vitamin A) in our Rosehip Oil that is proven to help reduce fine lines and fade pigmentation.
Containing the supercritical carbon dioxide oils of Organic Rosehip, Chia seed, Pomegranate and Raspberry, these superior oils have been extracted at low temperatures and are up to 45 times more concentrated than regular oils. Passionflower Seed oil is high in Linoleic and Oleic acids and keeps skin feeling smooth and plump. High levels of essential fatty acids Omega 3, 6 and 9 along with high levels of vitamins A, C and E make for a one of a kind serum.
Super Seed Serum works to soothe damaged skin tissue and regenerate cells, prevent and fight the signs of ageing, reduce dryness and fine lines, and delivers smoother, younger-looking skin.
Ingredients
Camellia Seed Oil,* Passionfruit Seed Oil, Chia Seed Co2,* Rosehip Seed Co2,* Pomegranate Co2,* Raspberry Co2,* Roman Chamomile,* Geranium essential Oils.*
*Certified Organic Ingredients
Directions
Gently pat a few drops of oil into damp skin after cleansing. Apply at night if skin is very dry. This product is nut free.