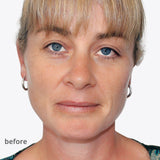 The Youth Lift
MATURE SKIN SAVIOUR
Notes
The Youth Lift
Our unique two part treatment The Youth Lift works in conjunction to protect against and reduce the signs of ageing. The Youth Lift does this by boosting the ability of the skin to naturally plump and hydrate itself. The Serum contains Hyaluronic Acid, a fundamental building block of the body which helps form the plump fluid matrix of muscles and has properties that help store water in the skin to provide essential moisture. When we are young our skin is full of plump, water-filled cells and when we age our cells ability to hold water is decreased. Introducing our vegetable derived HA helps skin stay moist and supple at an older age. Other ingredients include the prime antioxidant Vitamin E that enables the skin to moisturise itself from within. The Mask contains anti - inflammatory Seaweed, soothing Marshmallow and rejuvenating Liquorice. Bentonite is negatively charged volcanic clay that absorbs toxins and detoxifies the skin. White clay has a calming effect. This mask is painted on over the serum and is ready to be removed when dry.
Directions
Step One: The Youth Lift Serum 
Cleanse skin and press 2 pumps of serum onto fingertips and smooth evenly onto face before mask application. 
Step Two: The Youth Lift Mask 
Mix 1 level teaspoon of mask with equal water. Paint onto face using upward strokes. Avoid the eye area and gently remove with warm water when dry.
Step Three:  
Apply two further pumps of serum and smooth evenly onto face as in Step One.
Ingredients
The Youth Lift Serum Purified Water, Camellia Oil,* Natural Vitamin E, Diatomic Oxygen, Xanthan Gum, Vegetable derived Hyaluronic Acid, Carrot Co2,* German Chamomile Essential Oil,* Grapefruit Seed Extract, Clear Quartz Ge Essence.
The Youth Lift Mask Corn Flour,* Bentonite Clay, Ivory White Clay, Seaweed,* Liquorice,* Marshmallow.*
*Certified Organic Ingredients
The Youth Lift contains natural active ingredients and may not suitable for sensitive or reactive skin types. Best results are achieved with weekly applications.